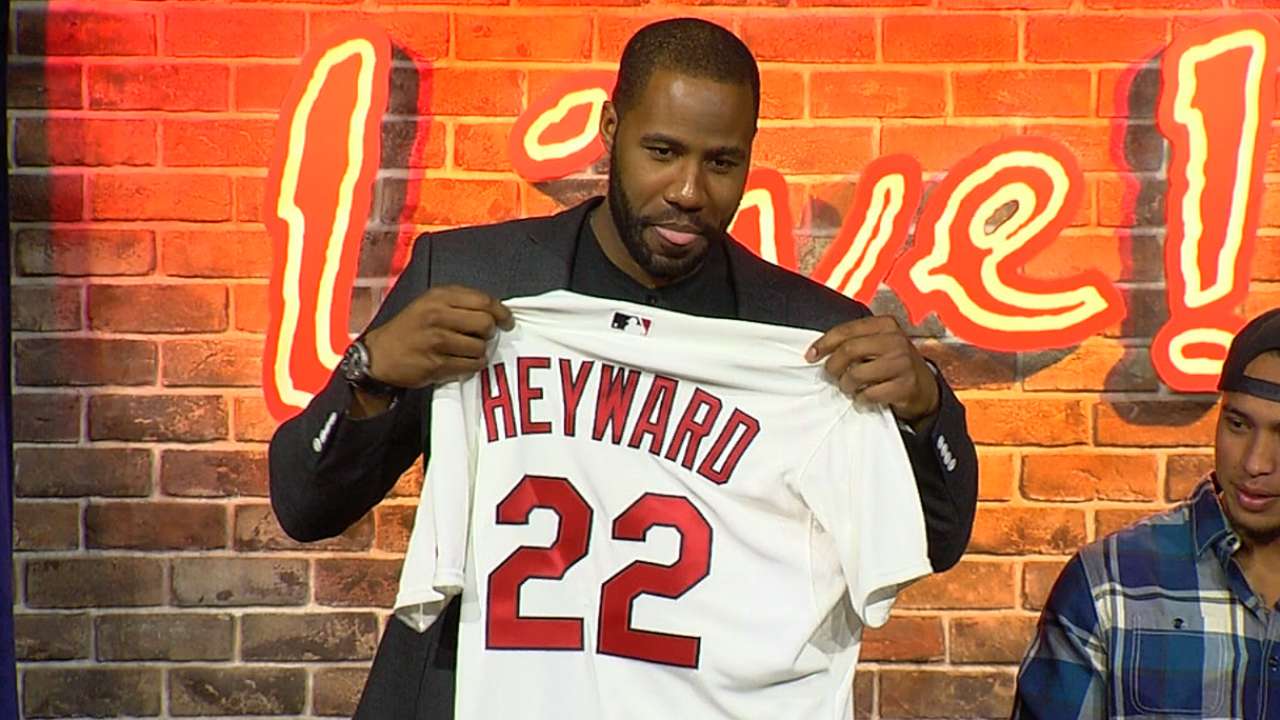 Jerry Dipoto has been busy working the trade wire to solve the Mariners' many issues so far this young offseason. Dipoto's deals have brought M's fans Joaquin Benoit, Nate Karns, Leonys Martin, and Boog Powell, among others. I expect the consistent veteran reliever Benoit to take over as the team's closer next year. Karns provides quality depth to the back-end of the starting rotation, Martin forgot how to hit last year but provides a quality outfield glove with offensive upside due to his speed, and Powell is a patient minor league hitter with a cool name. There is certainly reason for optimism so far after Dipoto's trades, which sent fan-favorites Logan Morrison, Brad Miller, and Tom Wilhelmsen packing. However, the team hasn't been improved enough to expect the M's to enter the Wild Card lottery next year, let alone contend for a division title. They're still desperate for anyone who can track fly balls in spacious Safeco Field, draw a few walks, and take the bat away from Mike Zunino. To solve a few of the Mariners' problems, I looked around the free agent market.
This year's crop features excellent starting pitcher talent, with David Price, Johnny Cueto, Zack Greinke, and Jordan Zimmermann all looking for new contracts. I would of course love to see the Mariners spend to acquire Greinke or Price to pair with Felix Hernandez, but after signing big free agents Robinson Cano and Nelson Cruz the previous two offseasons, they're unlikely to add another mega-contract. Still, I've identified ten players I'd love to see in Mariners uniforms this spring and organized them into three groups: Realistic free agents they need to win now, nifty free agents who could make them contenders, and free agents to dream about. Let's start with some essentials:
Free Agents the Mariners Need
These three players aren't flashy, but they add depth and skills the Mariners desperately need to climb back into the thick of the AL West race next year. Let's start with the obvious:
The Mariners have been expected to sign the former Angels catcher for some time now and with good reason. Iannetta had good offensive numbers in 2013 and 2014 before slumping dramatically in 2015, when he slashed .188/.293/.335. That miserable slash line looks like an outlier. His BABIP fell over 100 points between 2014 and 2015, from a fortunate .329 to an unlucky .225. Even if some of the offensive drop-off is due to his age—he turns 33 on April 8th of next year—he has been too effective in recent years to hit below .200 again in 2016. I expect him to hit around .240 in 2016, but with his batting eye and patience at the plate, his OBP should be at least 100 points higher. Combined with excellent pitch-framing skills and an above-average throwing arm, Iannetta should be a useful player for the Mariners. The primary reason the M's need Iannetta, of course, is to take as many plate appearances away from Mike Zunino as possible. For all the uncharacteristic struggles that Iannetta had at the plate last season, Zunino was worse. I won't post his putrid slash line from 2015, but trust me; I sat through about two-thirds of Zunino's 386 plate appearances last year. The less this man hits for the Mariners, the better. Iannetta took almost as many walks last year (41) as Zunino has taken in his entire career (54). With Iannetta and Zunino, the Mariners could platoon the two catchers, maybe help poor Mike find some confidence at the plate, and create the best defensive catcher contingent in the Major Leagues.
The former Rocky, Cub, and Astro played his first full Major League season last year, appearing in 156 games and compiling 690 plate appearances. The main concern with Fowler is his injury history, and entering his age-30 season in 2016, those concerns are not misplaced. However, throughout his career, Fowler has shown excellent patience at the plate and produced decent power/speed numbers. In 2015 he set a career-high for home runs with 17 and stole 20 bases, the most bags he's swiped since 2009, his rookie year. He has a career .363 OBP and posted a serviceable 107 OPS+ last season. He has played an average center field his entire career, and last year improved his defensive metrics, producing 5 total zone fielding runs above average, according to Baseball Reference. If the M's staff can convince or bribe him to take left or right field, the Mariners get a decent outfielder with a reasonable approach at the plate—just the kind of player they desperately need. Also, he has an impossibly cute family.
Joyce is another former Angel coming off of a miserable season at the plate. In only 284 plate appearances last season, he hit .174/.272/.291. He'll turn 31 late in the 2016 season, but he has always possessed a keen eye and is only two years removed from an 18 homer, 7 steal season with the Tampa Bay Rays. His average was terrible last year, but his OBP was 98 points higher—even in his worst season as an MLB player, he was able to lay off pitches in the dirt and over his head more frequently than anyone in the M's lineup not named Robinson Cano. Because of his down year at the plate, Joyce will likely be available as a low-risk, low-cost outfield option for the Mariners. He's an average outfielder, spending most of his time in right or center field, but he's an upgrade over the likes of the recently departed Brad Miller and the lumbering Mark Trumbo.
Impact Free Agents for a Postseason Run
Coming off winning the World Series with the Royals, Alex Gordon appears to have settled in as a good run producer and top-notch defender in the outfield. The three-time Gold Glove winner was a less effective defender last year in limited action due to injuries, but he's only one year removed from his 27 total zone fielding runs above average season in left field in 2014. He has consistently delivered around 15 to 20 home runs per season since 2011, and has chipped in double-digit steal totals four of the past five seasons. In 422 plate appearances last year, Gordon posted an OPS+ of 120, the second-highest mark of his career, behind only his 2012 season in which he led the league in doubles with 51. Imagine the gaps his line-drives could find in Safeco Field.
Are you seeing a pattern here? Zobrist has long been celebrated for his patient approach at the plate and his ability to play every position but catcher and pitcher. His versatility makes him an asset for any manager, even entering his age-35 season. What's especially impressive about Zobrist is his K/BB ratio last season for Oakland and Kansas City: 56/62. He walked more than he struck out. While his speed numbers are diminishing with age, he slugged .450 last year and posted an OPS of .809. Not bad for someone who can competently hold down a corner outfield spot and most infield positions. His ability to make contact and avoid striking out will greatly help a lineup that was fourth in the league in strikeouts and 14th in walks last year.
The Mariners will need to upgrade their bullpen if they want to get to the postseason and last beyond the endlessly frustrating wild card game. Dipoto has already acquired Benoit to bolster a pen that faltered badly last year after an excellent 2014. Madson is a 35-year-old veteran with 43.1 postseason innings under his belt. He doesn't average a strikeout per inning anymore but he posted the best WHIP (0.96) of his career with the Royals last year (why not just steal the entire Royals roster?). With Carson Smith, Madson, and Benoit at the back end of the bullpen, the Mariners could shut down games in the sixth or seventh inning like the Royals did all of last season and deep into the playoffs.
Kazmir's 73.1 innings for the Astros last year weren't much to write home about. Even the Mariners hit him around down the stretch. However, when was making half of his starts in the worst-smelling ballpark in the major leagues, Kazmir posted a 2.38 ERA and almost a strikeout per inning. Even taking away the ridiculous foul territory of the lovely Oakland Coliseum, Kazmir had an FIP of 3.16. He ranked 20th in the league last year in fly ball percentage, and with a collection of ball-hawking outfielders roaming Safeco Field behind him, most of those fly balls won't fall in.
Pipe-Dream Free Agents
These free agents aren't likely to end up in Seattle, but a guy can dream, right?
Even casual Cardinals fans know what the J-Hey kid can do in center field with his legs and glove. The guy just catches everything. His zone statistics actually fell a bit last season from 2014, but he still won his third Gold Glove and was worth 24 more runs than the average center fielder in 2015, according to Baseball Reference. He also threw out 10 baserunners from center field. He also quietly had his best offensive season since 2012 last year, knocking a career-high 33 doubles, 13 home runs, and swiping a career-high 23 bases while slashing .293/.359/.439. What makes me drool over Heyward is his potential. He's only 26 and his peak years may still be ahead of him.
Crush is a free-swinger who would have made Jack Zdurencik's waddle tickle. Maybe it's the nostalgia of Davis leading my fantasy baseball team, Buhner Buzz Cut, to a championship in 2013 that makes me yearn to see him reunited with Nelson Cruz to form once again the most fearsome power-hitting duo in the American League. He led the league in strikeouts and home runs last year with 208 and 47. Davis also walked 84 times in 2015 and posted an OPS of .923. His career slugging percentage in eight seasons is .506. Most importantly, Davis has been consistently fun to watch in three of his last four seasons with Baltimore.
Picture this for a moment: Cespedes, coming off a 35-home run season with the Tigers and Mets in which he led New York to a National League pennant, signs with the Mariners. In the wild card play-in game next season, he completely misplays a ball in right field off the bat of the A's Josh Reddick. Reddick thinks he can race home for the game-tying, inside-the-park home run in the bottom of the ninth. He's halfway down the third base line when Cespedes fights off Leonys Martin and finds the ball. He fires a throw from the right field wall to NAIL Reddick at the plate. The Mariners win and streak through the playoffs for their first World Series title. That doesn't convince you Cespedes would be great in Mariner green? How about this?
*Thank you to Nathan Bishop for your excellent article on Iannetta at Lookout Landing and the use of your catching statistics link.
###
Keep up with us on Twitter: @Seatown_Mariner